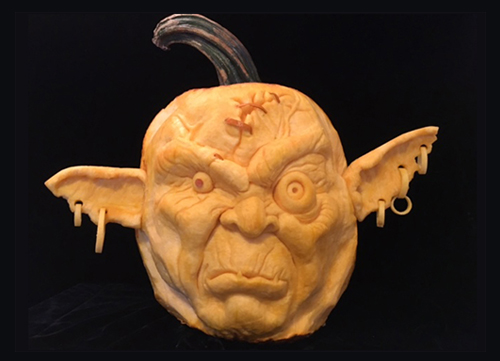 Are you ready to up your pumpkin-carving game? In this hands-on workshop, you're the sculptor and fall veggies are the medium. In this three-hour workshop, you'll learn the art of subtractive sculpting using pumpkins. Participants will learn how to sculpt using traditional clay-sculpting tools. 
We are lucky to have Nancy Baker of The Food Artists Group in to teach us the basics. Nancy is part of a group of internationally acclaimed food artists who work in a wide range of edible mediums, including fruits, vegetables, sugar, bread, chocolate, etc. Pumpkins and sculpting tools are included in your $85 registration fee.
We'll open our doors at 9:30am and provide coffee, bagels, and OJ to get you started.
The class will start promptly at 10 and go until 1:00pm. You'll get to take your pumpkin masterpieces and your sculpting tools home with you.
Due to limited space, we will only be accepting 12 participants for this workshop. Reserve your spot today! Please no children under the age of 16.